For this mini-challenge you must:
Create a post describing which of the first four books of the WOTO reading challenge that you enjoyed most so far!
(IMPORTANT: Please include book cover, synopsis, and (Book Trailer if available) within your post)
I really enjoyed reading from Elena's POV, so that leaves me with the first two books in the series. Of the two, my favorite is probably STOLEN (Women of the Otherworld #2), because this is when we're really introduced to the rest of the characters in the series. Also, I'm absolutely in love with Clayton, so any chance I get to read about him, leaves me swooning. I just about melt every time he says "Darling" in that accent of his. So I bet you can guess one of the reasons I like reading from Elena's POV. She's one very lucky woman. But besides that, I just love how strong Elena is, and it's cool that she's the only female werewolf in the world. She's one of a kind. I'm definitely Team Elena & Clay!!
It was in Bitten, Kelley Armstrong's debut novel, that thirty-year-old Elena Michaels came to terms with her feral appetites and claimed the proud identity of a beautiful, successful woman and the only living female werewolf.
In Stolen, on a mission for her own elite pack, she is lured into the net of ruthless Internet billionaire Tyrone Winsloe, who has funded a bogus scientific investigation of the "other races" and their supernatural powers. Kidnapped and studied in his underground lab deep in the Maine woods, these paranormals - witches, vampires, shamans, werewolves - are then released and hunted to the death in a real-world video game. But when Winsloe captures Elena, he finally meets his match.
MY REVIEW:
http://bibliophilesthoughtsonbooks.blogspot.com/2012/04/challenge-review-stolen-by-kelley.html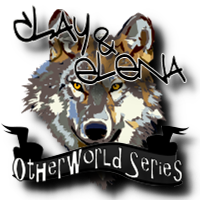 Clay and I went together like fire and gasoline—intense heat, incredible fireworks, and, occasionally, devastating destruction. I'd come to realize that was how we were. It wasn't a calm, stable relationship, it never would be, and, frankly, neither of us wanted that. Blissful domesticity was for other people. Give us fireworks and explosions, of both the positive and negative variety, and we were as blissful as could be.